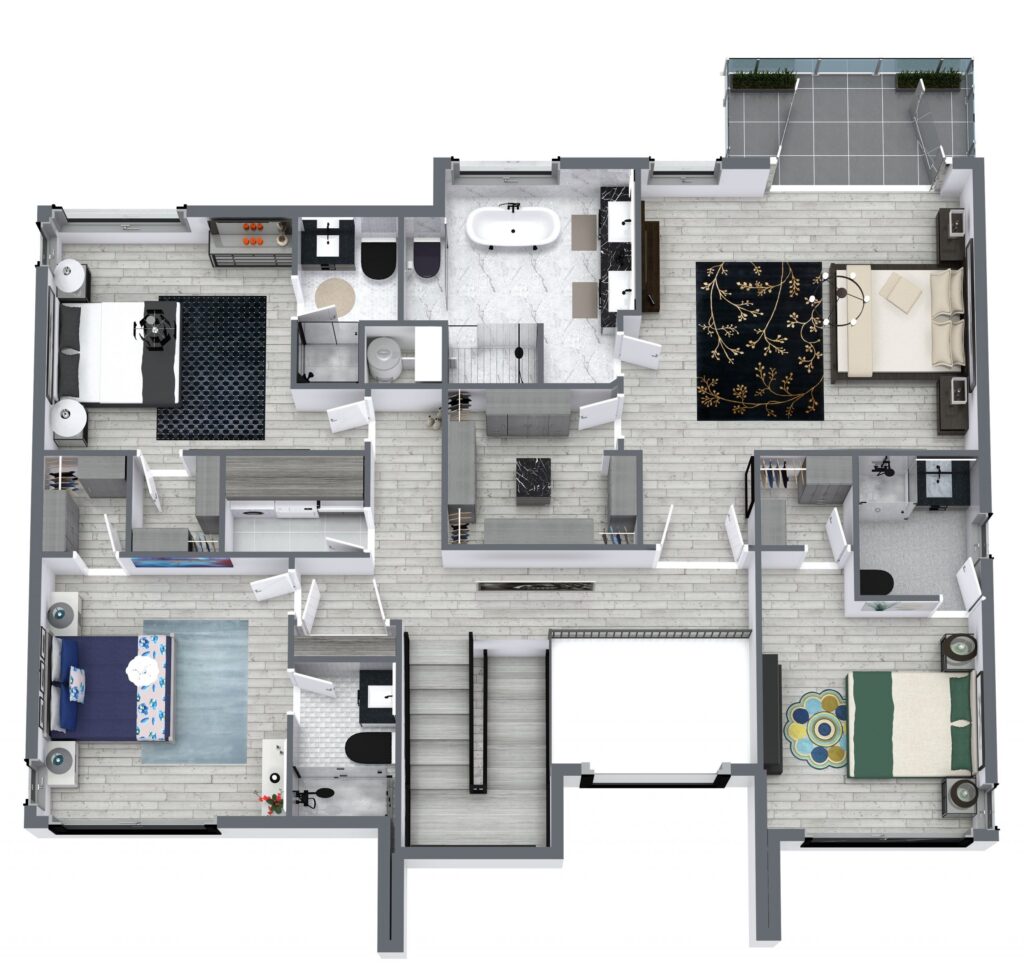 Taking the ideas in your head and communicating them to other people who then must impart those same ideas to other people is fun when you're playing the old party game of telephone.
In this game, a group of people sit in a circle. The first person whispers a thought into the ear of the person sitting beside them, who then takes what they heard and shares it with the person sitting beside them. This act carries on until the thought has made its way around the circle, where it is then spoken aloud by the last person. It is at this moment that the group discovers just how botched the thought has become. Everyone usually has a good laugh.
This funny scenario pops into my head when I think about building a home without having 3D-Model that everyone can see. Except, with building a house, it's not so funny and pretty costly.
There are so many moving parts and busy hands involved in a build or renovation of a home. Its potential for human error is high. This potential is a great reason to utilize any way humanly possible to communicate the end goal to everyone contributing.
Nowadays, we have 3D-Modeling. This way allows you to have a digital representation of what the end goal is. Having a 3D-Model leaves little to no room at all for misunderstandings.
If you have not considered why 3D-Modeling is the way, here are three reasons to go 3D with your next project.
1.) Clear Communication
With a 3D representation of your desired end goal, everyone can see what it is they are aiming to accomplish as a whole. Being afforded this perspective allows for everyone to be on the same page. As different tradespeople join a build, they can be privy to the end goal and see what their contribution is creating. Having the ability to see the bigger picture boosts timelines as well as conformance. Seeing the model also allows for greater team collaboration. In the end, you will reduce lead times, eliminate errors, and cut down costs. Not to mention, this can boost engagement and team morale.
2.) Well Informed Decision Making
Decisions on your finishing touches, designs, and layouts, can be made while looking at how they all come together in 3D. You can easily make changes in finishes and design choices before committing to anything. Utilizing a 3D-Model is an ideal way to keep costs down and ensure satisfaction with the finished product. Having your model allows you to enhance your overall design with increased precision.
3.) Realistic Expectations
Give yourself the gift of a 3D-Model of your home-to-be. Getting to see it in 3D allows you to get familiar with how it's going to look. There is a lot less room here for having to use your imagination to fill in gaps. Seeing the model of your project allows you to align your expectations to reality. Enjoy the feeling of having reality match what you were expecting instead of the other way around.
Unless you like surprises of the unpleasant and costly variety, do yourself a big favor and get a 3D-Model of your next build or renovation. Enjoy the process of your home coming to life with a bit more confidence and ease in the knowledge that you have communicated clearly. Unlike in the telephone game, your 3D-Model will do its job to keep the idea intact to the very end.
For pricing on a 3D-Model for your next build or renovation contact us here.